The Get Up & Grow Podcast EP #4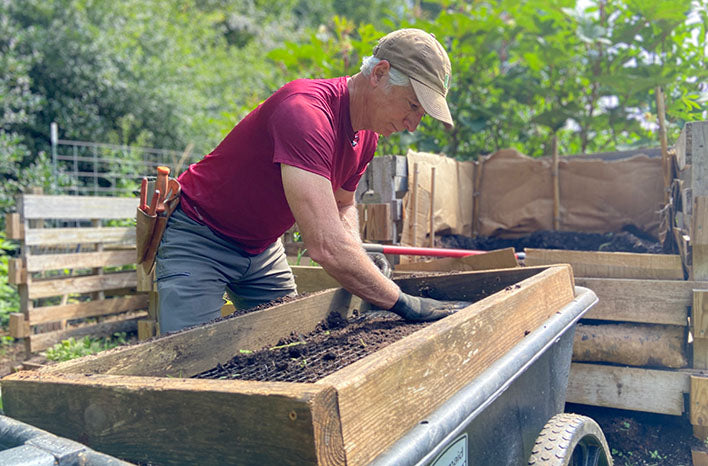 "The reason why I love gardening so much is because it humbles me and anyone who thinks they can get an edge up on Mother Nature because they can't and that in itself is grounding."
Joe Gardener - The Guru of Organic Gardening - Get Up & Grow Podcast EP #4
Welcome to the Get Up & Grow Podcast! In this episode, we have a very special guest, Joe Lamp'l, also known as Joe Gardener. He is the host and executive producer of the PBS show Growing a Greener World and has appeared on various television programs such as NBC's Today Show and ABC's Good Morning America. Joe believes that the world needs more gardens and gardeners, and he shares his knowledge with everyone through his website, joegardener.com.

In this conversation, we dive into Joe's journey in gardening and TV production. He shares the moments that brought him closer to the path he wanted to take, and the challenges he faced as an entrepreneur. Joe talks about what motivates him to keep educating people with generosity and understanding, and he walks us through his day and what's next for his garden and business.

We also discuss the importance of sustainability in gardening and how Joe implements it into his growing operation. Joe shares the mindset you need to be a successful gardener and how gardening can benefit society as a whole. He also tells us about his least favorite gardening activity and something new he's learned about gardening recently.

Joe emphasizes the importance of being a good steward to the planet and taking control of your own food production. He shares some basic things you need to start your own garden and talks about his seed starting course and how you can sign up for it.

Join us as we explore Joe's story and why gardening is so important for our minds and the planet. Listen now on the Get Up and Grow Podcast!

We discuss some of the following:
• Joe's story in gardening and tv production.
• How he has adapted to new forms of media to reach new growers.
• How he continues to stay motivated and teach new gardeners.
• Why people learning to garden is so important.
• Something he has learned about gardening recently and his least favorite gardening activity.
• What kind of a mindset you need to be a successful gardener and what kind of mindset can you develop through gardening.
• Why sustainability in gardening is so important.
• How you can take control of your own food production.
• How you can get started growing your own garden in any space.

Please check out the following links to what we discussed on the podcast today:

Joe's website where you can sign up for gardening courses, checkout his podcast, download free growing guides and more is available here: https://www.joegardener.com/

Joe's latest book The Vegetable Gardening Book: Your complete guide to growing an edible organic garden from seed to harvest is available on Amazon here.

This Podcast is dedicated to growers like you so we appreciate your feedback so we can provide the best experience possible for the grower community.

Now Get Up & Grow!

Taylor S.