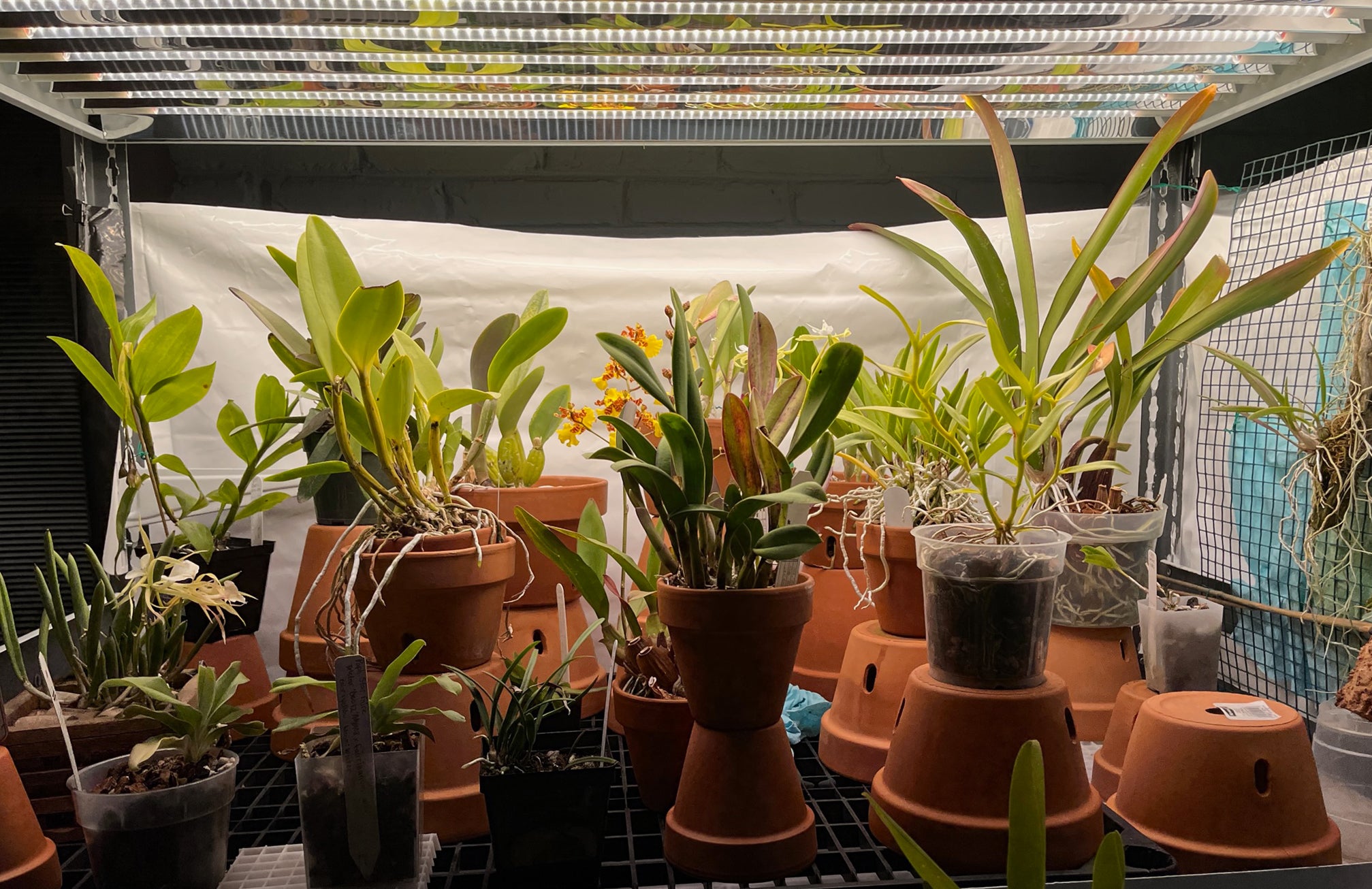 LED Grower Success Stories
LED Grower Success Stories – Fall '23 Part 2
See what growers around the country are growing with Active Grow LED Grow Lights. From orchids to squash and grow racks to closets, Active Grow has a solution for every plant type and application. Check out Part 2 of our Fall '23 collection of LED Grower Success Stories videos below.
Virginia
Mike B.
"As an indoor home orchid grower for 25 years, I struggled to find a light solution that would allow me to grow multiple orchid genera together under one light fixture; Active Grow fixtures give you more than enough light and bring you the joy of being able to try different orchid genera - worry free. With my energy savings, I bought another T5 HO 8 Lamp Horticultural Fixture Sun White Spectrum to replace the six bulb, 55W high output biaxial fluorescent lights. The additional light in both applications increased growth and flowering exponentially. I was pleasantly surprised that the LED fixture does give me 5-10 degrees of temperature differential between day and night (that orchids need to be at their best; but much cooler than the high output biaxial fluorescent bulbs I was using)."

Plant Types
Orchids (B. nodosa, B. glauca, Epidendrum ilense, E. oerstedii, Oncidium sweet sugar, Encyclia tampensis and other epidendrums, oncidiums and cattleya hybrids)
Active Grow Products Used
T5 HO 4FT 8 Lamp LED Grow Light – Sun White Spectrum
Massachusetts
David M.
"I am using an Active Grow T5 HO 2.0 4FT 4 Lamp LED Grow Light. It is an amazing light for my use which is predominately starting seeds. I did use this lamp by itself for about 4 weeks in late spring starting 3 autoflowers. They loved it prior to being placed in the garden."

Plant Types
Salanova lettuce, beets, squash and bush beans
Active Grow Products Used
T5 HO 2.0 4FT 4 Lamp LED Grow Light – Sun White Spectrum
Colorado
Derek S.
"I'm very excited to be able to show how Active Grow lights have been an extreme help! I was using a Spider Farmer light but it just wasn't cutting it so I ordered a 2-pack of the single high output T5 with the white and blue spectrum. Then added them to the bottom underside of the canopy, and let me tell you the plants are straight loving every second! I have seen a major change from them wanting to stretch for the light to now just soaking up as much as they can!!! I personally would recommend Active Grow to everyone! I would also like to tell them how simple and amazing the whole process was from their amazing staff to the fast reliable service!! All around great company!!"

Plant Types
Cannabis (super solider serum, runts, animal cookies, fuel biscuit, wedding cake and Roxanne)
Active Grow Products Used
Integrated Strip T5 4FT LED Mushroom Grow Light – Blue Sun Spectrum
Thank you to all of the growers who participated!
Check out Fall '23 Part 1 below.